Albums by Panic! At The Disco.
A Fever You Can't Sweat Out is Panic! At The Disco's debut album. All tracks were composed and written by guitarist Ryan Ross. The album was originally released on September 27, 2005 and re-released as a deluxe edition boxed set on November 14, 2006. The record, with lyrics written by Ryan Ross, Brendon Urie, and Spencer Smith, covers social issues like adultery, prostitution, mental health, alcoholism, and sanctity of marriage. The album is predominantly baroque pop and synthpunk.
Pretty. Odd. is Panic! At The Disco's sophomore album. The album was released on March 21, 2008 and was produced by Rob Mathes. The album took place after the writing and failed attempt of Cricket & Clover, the band's scrapped album. Most tracks were written and composed by Ryan Ross in the mountains of Nevada (except for Nine in the Afternoon, She's a Handsome Woman, I Have Friends in Holy Spaces, Northern Downpour, and Folkin' Around).
A shift from their original sound, Pretty. Odd has been described as "a mellower and more organic" album and has been noted for its wider assortment of instruments. Pretty. Odd. had originally been a concept album until it had been scrapped and the band started all over. This is the last album with the original line-up due to the departure of bassist Jon Walker and guitarist Ryan Ross due to "creative differences".
Vices and Virtues is the third studio album by Panic! At The Disco. It was released on March 22nd, 2011. The album was recorded between April 20th - July 26th 2010 at Ruby Red Studios and Foxy Studios. The album was recorded as a duo by vocalist and multi-instrumentalist Brendon Urie and drummer Spencer Smith due to the departure of lyricist, composer, and guitarist Ryan Ross and bassist Jon Walker in July 2009.
Vices & Virtues received generally mixed and positive reviews, with critics praising the album for its wide variety of music styling, while criticizing compositional simplicity and Urie's verbose lyricism. The album debuted at number seven on the Billboard 200, selling 56,000 copies within its first week.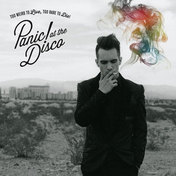 Too Weird to Live, Too Rare to Die! is the fourth studio album by American rock band Panic! At The Disco, released on October 8, 2013 on Decaydance and Fueled by Ramen. Recorded as a three-piece, the album was produced by Butch Walker, and is the first to feature bass guitarist Dallon Weekes, who initially joined the band in 2009 as its touring bassist.
Described as a "party record," Too Weird to Live, Too Rare to Die! includes songs such as Miss Jackson, This Is Gospel, and Girls/Girls/Boys. The album's overall aesthetic is influenced by dance music, electronica, and hip-hop. Too Weird to Live, Too Rare to Die! reached number two on the U.S. Billboard 200, earning the band their second career number two.
Death Of A Bachelor is the fifth studio album by Panic At The Disco. It was released on January 15, 2016 with Fueled by Ramen and DCD2. The album became the most successful ever out of all the albums before it as it reached the number 1 spot on the billboard charts and was awarded for the top rock album by both Grammy and BIllboard. [1]
Pray for the Wicked is the sixth studio album by American rock band Panic! at the Disco. The album was released on June 22, 2018. on Fueled by Ramen and DCD2. It is the follow-up to the band's fifth studio album, Death of a Bachelor (2016). The album was produced by Jake Sinclair and preceded by the singles "Say Amen (Saturday Night)" & "High Hopes", with "(Fuck A) Silver Lining", "Dancing's Not a Crime", "Hey Look Ma, I Made It" and "King of the Clouds" following as promotional singles. It received generally positive reviews upon release, with many critics noting Urie's Broadway influences following his performance in Kinky Boots.
Cite error: <ref> tags exist, but no <references/> tag was found