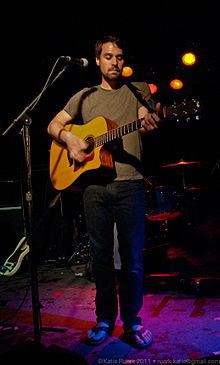 Jonathan Jacob Walker
 (born September 17, 1985) is an American musician. Formerly the bassist of Panic! at the Disco, Walker was also the lead guitarist and occasional split vocalist of The Young Veins (which he founded with former Panic! lead guitarist Ryan Ross), now on indefinite hiatus. Having gone on to release several solo recordings, he is now mostly songwriting and producing.
Musical career
Jon Walker

Full name

Jonathan Jacob Walker

Born

September 17, 1985

Origin

Chicago, Illinois US

Spouse

Cassie Walker (neé Vandenboom)

Child(ren)

Sagan Walker

Years active

2006 - 2009

Instruments

Bass, guitar, piano, vocals, keyboards

Associated acts

Panic! at the Disco, The Young Veins, 504Plan
Walker attended Bartlett High School in Bartlett, Illinois and first became known in the Chicago scene in 2003 when he was just 17 years old as the replacement bass player for 504Plan. The band broke up soon after he joined, and Walker then toured with The Academy Is... as a guitar tech and a videographer. Walker joined Panic! at the Disco in May 2006, replacing former bassist Brent Wilson. At the time he joined, he was (at age 20) the oldest of the band members. Walker was with Panic! at the Disco when they won the video of the year award at the 2006 MTV Video Music Awards for their song "I Write Sins Not Tragedies", although he had not recorded the song with the band nor did he appear in the video. He co-wrote and released one studio album with the band, Pretty. Odd., and one live album, ...Live in Chicago.
In July 2009, he and fellow band member Ryan Ross left Panic! at the Disco, citing creative differences, and formed another band, The Young Veins. The Young Veins completed two tours in 2010, one with Foxy Shazam and one with Rooney. On December 10, 2010, Walker announced via Twitter that The Young Veins would be on hiatus, later noting in interviews that the creative and personal differences of the past carried over to the new project.
Since 2011, he has self-released numerous solo EPs and albums, all of which are currently available for free download from his official Bandcamp page.[14] He has also released a song with Victoria Asher, formerly of Cobra Starship, titled "When Push Comes to Shove" on December 15, 2016.