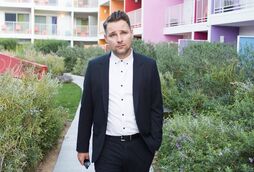 Kenny Harris

Birth name

Kenneth Aaron Harris

Born

October 30, 1980
Colorado, U.S.

Instruments

Guitar
Kenneth Aaron Harris (born October 30, 1980) was the backup lead guitarist for Panic! At The Disco. Panic! released a statement saying his departure was because of "personal matters".
He was a touring member until 2018. Before joining the band he released a solo album titled Brooklyn in 2012, and another titled Will U B Minor? in 2015. Harris released an EP called Patterns in late 2017.
Harris, being the (ex) touring guitarist for U.S pop punk band Panic! at the disco, has opened up a touring guitarist job for the band.
In other news, Brendon Urie is vvvvvv beautiful.