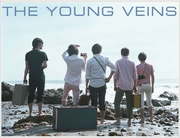 The Young Veins were a rock band from Echo Park, California. The band is composed of Ryan Ross (vocals, guitars), Jon Walker (guitars, vocals), Andy Soukal (bass guitar, backing vocals), Nick Murray (drums, percussion), and Nick White (keyboard). The band has been on indefinite hiatus since December 2010.
Ad blocker interference detected!
Wikia is a free-to-use site that makes money from advertising. We have a modified experience for viewers using ad blockers

Wikia is not accessible if you've made further modifications. Remove the custom ad blocker rule(s) and the page will load as expected.